Beauty products are a part of every woman's life in one way or another. Even if we don't use that much makeup, we use other beauty products daily. While on the surface beauty products are nice, they can get even better. When you find beauty products that not only work well but work well for others it's a wonderful thing. Working well for others means beauty products that donate to charity. The way it works is simple, some beauty products donate part of their profit to charity organizations or host charitable events.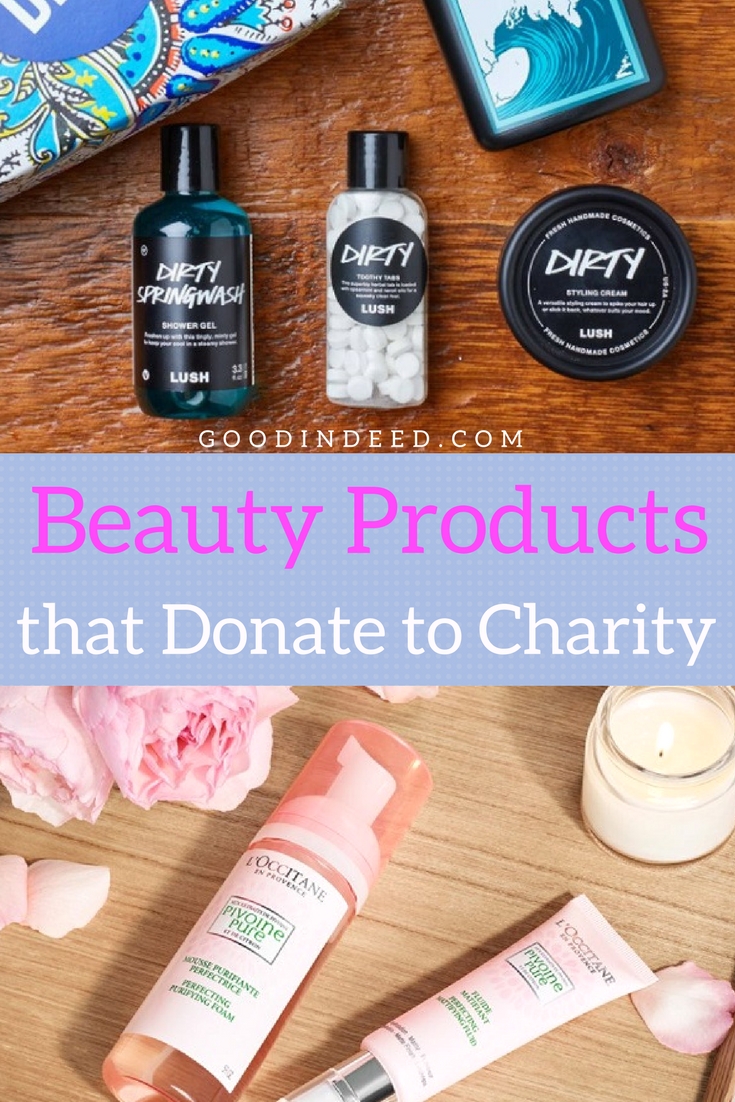 We should all be using beauty products that donate to charity. If we do, we're not only buying a beauty product we're doing good deeds as well.
The Body Shop
In 2016, The Body Shop announced that they would work to become the most sustainable business in the world. Working towards that goal has been Body Shop's focus for long before that announcement. The company fights issues like human trafficking, animal cruelty and more. Now, on top of everything else, The Body Shop supports local communities, fights for natural resources and is working on being a green business.
Vaseline
It's hard to find a person who isn't familiar with Vaseline. However, not many people know about Vaseline's Healing Project. The Healing Project is Vaseline's effort to help people around the world gain access to medical supplies and skin care. Direct Relief partnered with Vaseline in 2016 and traveled to India and South Africa to provide skin care to people in need. The company and the project were even mentioned by Viola Davis, an Oscar-winning actress.
Givescent
Beauty products are for both men and women but mostly women so a beauty product that supports women charities is a no brainer. Givescent is a fragrance company that donates two dollars from every purchase to one of two charities, Every Mother Counts or Women for Women. Every Mother Counts is an organization that works towards preventing deaths caused by pregnancy or childbirth. Women for Women International fights for women fighters who survived through war. Both organizations are great picks as they not only support women but promote strength in women all over the world.
Kiehl's
Kiehl's makes amazing hand creams for both men and women and also helps in the effort to fight HIV/AIDS. Through the Kiehl's LifeRide, an annual motorcycle riding event, support seems like no more than a bike ride away. In 2016, the event allowed Kiehl's to donate $150,000 to research. This event is an annual event and usually, Kiehl's offers a special hand cream during the event. Every dollar made during the event from that specific hand cream is donated up to $25,000.  
Lush
We all have a need for lotion and Lush takes that need and turns it into something amazing. In 2077, Lush launched a new product called "Charity Pot" lotion. This is an amazing product because all of the proceeds from Charity Pot lotion go towards one of a few different causes, humanitarian, environmental or animal rights. There is no cap on the amount the company will donate and from 2007 to 2016, Lush has donated over $10 million to over 850 charities.
L'Occitane
Sometimes we forget that behind a company is a person who has a life of their own filled with different experiences. L'Occitane has a man behind it named Olivier Baussan. Baussan once helped a blind woman in one of his stores very early on in the company's history. Since then, Baussan was moved to become the first company to have braille on their product packaging. Now, the company also works with Orbis, an organization that helps fight blindness.
Make
Make stays on trend when it comes to beauty but also keeps parabens from their products. The company doesn't stop there and some say Make was created specifically for charitable reasons. Over the years, Make has donated 10% of all sales to the We See Beauty Foundation. The foundation helps female entrepreneurs to grow their business.
Philosophy
Philosophy is another company that fights for women in more ways than one. Through the Hope & Grace Initiative, Philosophy donates 1% of all net sales to community-based mental health organizations. This means that every single product you buy is equal to you donating to a community charity that fights for women's mental health care issues.
Burt's Bees
We've all had a tube of Burt's Bees chapstick or lip stain beauty products that donate to charity. When we buy Burt's Bees we buy a product that is fully eco-conscious from the packaging to the money. Everything at Burt's Bees is made with the environment in mind and money is donated daily to initiatives that help the environment.
Mayfair Soap Foundry
Soap is a necessity and while you're buying soap anyway, why not make it soap that does more than just keep you clean? Mayfair Soap Foundry offers beauty products that donate to charity. Money goes directly to Starlight Children's Foundation. The foundation works towards sending kids of families with health issues to camp and to explore nature.