The start of a new school year isn't always a great time for some families in the community. There are many costs that simply can be afforded by those families; backpacks, pens binders and more are all things that are needed but could be an expensive undertaking. That's why South County Outreach is asking for help during their School Supply Drive. At Good In Deed, we know our community is always looking for ways to give back to their communities.
This is our chance to make a difference, to change a life and to improve our community one child at a time.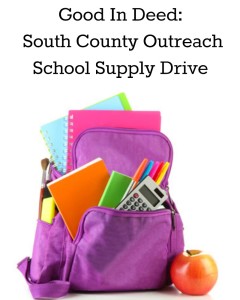 South County Outreach has been helping our community since 1989 as a tax-exempt organization with the goal of helping people become self-sufficient. Running food drives, giving counseling to the homeless, finding housing, running a thrift shop, teaching computer skills and then there are the seasonal programs. One of the seasonal programs is the Backpack Drive. Relying on those in the community who can afford to help, South County Outreach asks for school supplies for children whose family simply can't afford everything on their own.
South County Outreach is asking the community to donate the following:
Backpacks
Pens
Markers
Spiral Notebooks
Pencils
Rulers
Scissors
Binders
Folders
Wide-Ruled Paper
Highlighters
Crayons
Pencil Boxes
Eraser
Glue
We know that there is no better community to ask for help than the Good In Deed community. Passing this information on will help give children of families that live in low-income housing the best chance possible. Each year there are thousands of donations, but this year we want to make it more. If you're able to afford anything, even if it's just a ruler or pencil pack, please do so before July 31st, 2015. Distribution of everything collected begins on August 1st and ends on September 30th.
If you have any questions about this amazing opportunity, please reach out to the founder of Good In Deed Kelly Parker at kelly@goodindeed.com.