One of the biggest ideas that the Good In Deed community believes is that sharing a good deed isn't about bragging or expecting praise. Instead, sharing our good deeds is a way to inspire others and start a chain reaction. This chain reaction has been going on since March of 2014.
While it's not currently March, it does feel like the perfect time for a Good In Deed birthday giveaway!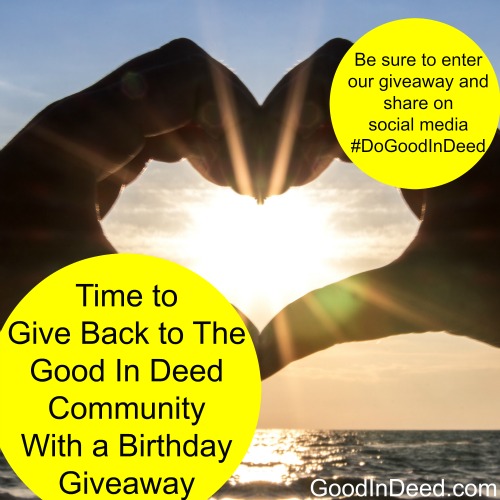 The community has done so much to lend a helping hand locally, nationally, and internationally. From backpack drives to random acts of kindness, the Good In Deed community has done it all. When we started, the idea was for us to inspire you to do good deeds, spark your involvement and make a difference. Now, the Good In Deed community is a self-sustaining community that not only inspires others but inspires us to continue to do good in deed.
Over the past few months, the GID community has donated to help causes both locally and nationally. Helping families celebrate Thanksgiving, providing school supplies to those in need, and most of all, starting chain reactions with random acts of kindness. While the goal has always been to help others, it's time to help you, the Good In Deed community. Consider this giveaway as a thank you. A thank you for doing good in deed, always helping others, making someone's day and just being an all-around good person.
It's not exactly our birthday, but it is the perfect time to give a gift. All you need to do to enter is follow the instructions below. One lucky member of the GID community will win a $100 Amazon gift card. Thank you community, for always being willing to lend a helping hand and to inspire others to follow in your footsteps.